Today's Defence news includes a report that no military personnel were killed on operations in 2016, continued coverage of the milestones for the Royal Navy in 2017.
It also includes speculation on what the election of Donald Trump as President of the United States will mean for the procurement of the UK's new Maritime Patrol aircraft, a report about an Army social media advert to encourage women to attend its stand at a fashion show in Glasgow and continued reporting on the threat from Daesh after the attack on a nightclub in Istanbul.
OPERATIONAL DEATHS
The Daily Telegraph reports that 2016 was the first year since 1968 that no soldier, sailor or airman were killed on operations. The article also reports that 2017 will be the 'year of the Royal Navy' with a number of milestones in the coming year.
You can read more about milestones for the Royal Navy in 2017 here.
MARITIME PATROL AIRCRAFT
The Daily Mirror and Daily Record report that President Elect Donald Trump has clashed with Boeing in recent days causing speculation that the UK's deal to buy the Boeing Poseidon P-8 might not go ahead.
An MOD spokesperson said:
A foreign military sale with the US allows us to get the capability we need, in the timeline we want, while securing best value for the UK taxpayer. Backed by our £178 billion equipment plan, we will receive the first UK P-8A Poseidon before the end of the decade.
ARMY
The Daily Telegraph claims that the Army has been criticised for trying to attract more women by staging 'Military Makeup' sessions at a fashion and beauty show at Glasgow's Scottish Exhibition and Conference Centre.
 An MOD spokesperson said:
We're proud that the Times placed us in its top 50 Employers for Women because we're firmly committed to promoting equality. We regret any offence caused by this light-hearted appeal for visitors at a make-up fair to trial military camouflage.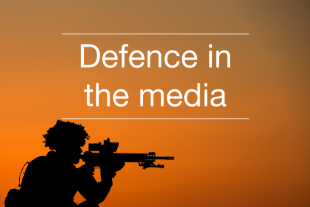 Follow us on Twitter and don't forget to sign up for email alerts.