Today's defence-related news includes the announcement that the MOD has awarded the £30m contract to produce a Laser Directed Energy Weapon to the UK Dragonfire consortium.
Laser Weapons
The Sun, Daily Mail and The Guardian all report that the Ministry of Defence has awarded a group of arms firms called UK Dragonfire a £30m contract for laser weapons, which could be used by UK forces on board warships, jets, drones and by ground troops. It is reported that the aim is to have a product in place by the mid-2020s.
Minister for Defence Procurement, Harriet Baldwin said:
The UK has long enjoyed a reputation as a world leader in innovation and it is truly ground-breaking projects like the Laser Directed Energy Weapon which will keep this country ahead of the curve. The Defence Innovation Initiative and £800M Defence Innovation Fund aim to encourage imagination, ingenuity and entrepreneurship, in pursuit of maintaining a military advantage in the future. With a rising Defence budget, and a £178 billion equipment plan, our commitment to innovation will deliver a safer and more prosperous Britain.
Royal Navy
The Times has claimed that the Royal Navy is trying to save an extra £500m over the next two months.
An MOD Spokesperson said:
Britain has the largest defence budget in Europe and it is growing as we invest billions of pounds in new ships, submarines and aircraft.  The Royal Navy is playing a key role as Britain steps up around the world, helping to provide stability abroad and security at home.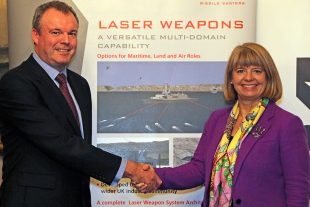 Follow us on Twitter and don't forget to sign up for email alerts.