Defence stories in today's papers includes speculation that the tradition of the number two role in NATO being held by a British officer is under threat following the Brexit vote; claims that the top military judge mishandled the trail of Sgt Alexander Blackman – Marine A; and news that the MOD has agreed a five-year, £271m contract with Leonardo to service Wildcat helicopters.
NATO 
The Times reports on its front page that 'France bids to take Nato leadership role from Britain', following the publication of a briefing paper from the Royal United Services Institute where the think tank also cautions against using Britain's role as the leading military power in western Europe as a bargaining chip in Brexit negotiations. In reference to the post of NATO Deputy Supreme Allied Commander Europe (DSACEUR), the paper says that 'there is already some discussion of the possibility that the assignment of the position… might have to be transferred to a Nato member that is a member of the EU'.
An MOD Spokesperson said:   
The UK is leaving the EU but we are not leaving Europe. We will continue to play a leading role in European security and with the second biggest defence budget in NATO we will deliver on all our commitments. This includes providing NATO's Deputy Supreme Allied Commander for Europe.
Marine A
The Daily Telegraph front page leads with extracts from a report by the Criminal Cases Review Commission that Judge Advocate General Jeff Blackett was guilty of an 'apparent failure' to apply the law properly by not giving the military jury the option of convicting Sgt Blackman of the lesser charge of manslaughter.
Wildcat  
Also in the Daily Telegraph, a picture story on yesterday's announcement that the MOD has signed a £271m deal with Leonardo Helicopters to service Britain's fleet of Wildcat helicopters. The deal to support the UK's 62 Wildcats will safeguard 500 jobs at the company's bases in Somerset.
Minister for Defence Procurement, Harriet Baldwin said:
This Wildcat deal delivers a key capability for the Royal Navy and Army, and support vital high-skilled jobs in Somerset, where there's a proud tradition of supporting UK helicopter operations.

Wildcat is one of the world's most advanced helicopters and an important part of the Government's ten-year £178 billion plan to provide our Armed Forces with the equipment they deserve.
Image of the day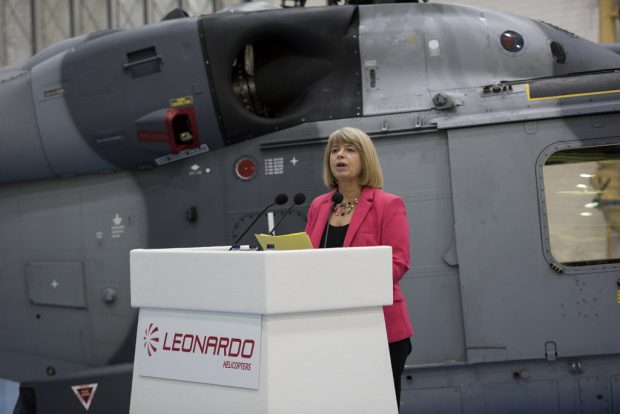 Follow us on Twitter and don't forget to sign up for email alerts.