The defence ministerial at NATO's HQ in Brussels, where Defence Secretary Michael Fallon met his US counterpart James Mattis face-to-face for the first time, is driving today's defence news.
Secretary Mattis' NATO visit 
James Mattis' first visit to NATO's Brussels HQ as US Defence Secretary, where he called for allies to increase their spending, is reported in many outlets including the Independent and the Guardian.
During his first face-to-face meeting with Secretary Mattis the DefenceSecretary Sir Michael Fallon reassured him that the UK stands shoulder to shoulder with the US in calling for NATO to be more agile to meet new threats in the fields in areas such as cyber warfare and counter terrorism.
Defence Secretary Sir Michael Fallon said:
NATO has been a guarantee of mutual security for more than half a century. Britain is now calling for our partners to step up and share burdens on spending and help it become more agile in dealing with new threats including cyber and terrorism.

As leading player in the Alliance we recognise the importance of backing up our operational and exercise commitments with investment in new equipment to deal with threats to our security.
Read more here.
C-Daesh Ministerial
 Today the Defence Secretary's visit to NATO continues with the conclusion of the defence ministerial meetings and a separate Counter-Daesh ministerial, where around 50 members of the Global Coalition against Daesh will discuss the progress made in the campaign, specifically around the Iraqi-led operation to retake Mosul.
We will publish more on those meeting later today, follow @DefenceHQ on Twitter for updates.
100 years of Women in the Naval Service
Jane Allen, a Commander in the Royal Naval Reserve, was interviewed on BBC Radio 4 Today this morning about the upcoming National Museum of the Royal Navy exhibition in Portsmouth on the subject of 100 years of Women in the Naval Service. Cdr Allen said women have "achieved normality" in the Royal Navy: commanding ships, land establishments, and selected purely on the basis of ability.
Find out more here.
Image of the day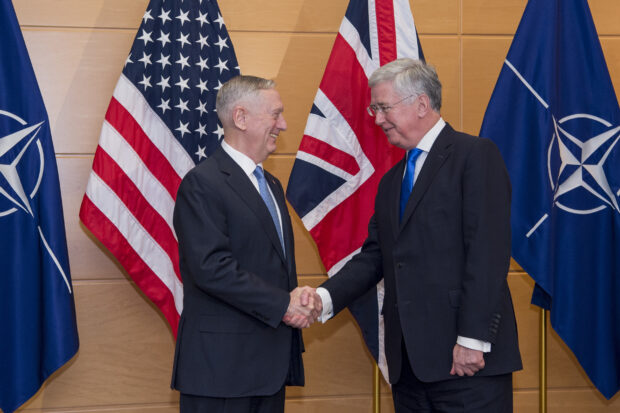 Follow us on Twitter and don't forget to sign up for email alerts.