Today's defence-related news includes the Better Combat Compensation consultation, UK's defence spending and the Duchess of Cambridge's visit to an Air Cadets camp at RAF Wittering
Combat Immunity
The MOD's consultation on Better Combat Compensation is widely covered in many of today's newspapers including the Independent, Daily Mail,  Daily Mirror, and Daily Telegraph. 
Defence Secretary Sir Michael Fallon said:
Our Armed Forces put their lives on the line to keep us safe. This new scheme will mean more generous payments to anyone injured – or the families of those who are killed – in combat. By making these changes we will put more money into compensation and remove the stress of lengthy legal action.
NATO 2% spending & Defence Ministerial
The International Institute for Strategic Studies' claim that Britain's military spending dipped below the NATO target of 2% GDP last year was reported in The Times, Daily Express, Daily Mail , The Independent, and The Sun.
An MOD Spokesperson said:
These figures are wrong: NATO's own figures clearly show that the UK spends over 2% of its GDP on defence. Our defence budget is the biggest in Europe, the second largest in NATO, and it is growing each year as we invest £178 billion in new equipment and the UK steps up globally, with new ships, submarines and aircraft over the next decade.
NATO meeting
NATO confirmed that the UK meets the spending target in their July 2016 figures. Read more about the Defence Secretary's visit to NATO HQ today and his first face-to-face meeting with his US counterpart James Mattis here.
Duchess of Cambridge visits Air Cadets
The Duchess of Cambridge spent time with a group of air cadets on their half-term camp at RAF Wittering yesterday. The event is reported in The Times, Daily Mail, The Daily Mirror, The Scotsman, and The Daily Telegraph. This visit follows the government's announcement last week that thousands of students will benefit from new cadet units. 25 schools are set to create new cadet units under the Government-sponsored Cadet Expansion Programme, which is backed by a £50 million Government plan. To learn more about this click here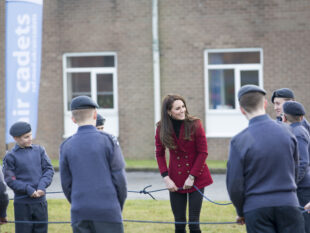 Follow us on Twitter, Linked in and Instagram and don't forget to sign up for email alerts.