Defence news today includes Scots soldiers in Kenya, Gurhkas presented with medals, and the appeal of Sergeant Alexander Blackman.

Scots Soldiers hand out clothes in Kenya
The Daily Record reports that clothes collected by Scots soldiers' families have been handed out to children in Kenya. The paper says that The Royal Highland Fusiliers, 2nd Battalion, The Royal Regiment of Scotland passed on donations to families in Nanyuki while in Kenya for a training exercise.
Gurkhas presented with operational medals
The Daily Telegraph, The Daily Star and The Guardian report that the Prince of Wales presented 150 soldiers from 2nd Battalion The Royal Gurkha Rifles with Operational medals for their service in Afghanistan.
Sergeant Alexander Blackman
It is widely reported that Sergeant Alexander Blackman's conviction for murder has been substituted for one of manslaughter.
A Ministry of Defence spokesperson said:
We have fully co-operated with each stage of Sergeant Blackman's case, which has now involved a criminal investigation, a court martial and the appeal process, and will continue to provide personal support to the family, as we have done since charges were first brought. We respect the court's decision and it would be inappropriate for us to comment further on it.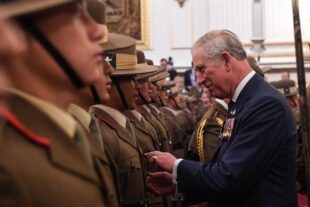 Follow us on Twitter, Linked in and Instagram and don't forget to sign up for email alerts.