Defence news today includes the Defence Secretary's visit to Estonia to meet troops supporting NATO's enhanced Forward Presence, and coverage about the £1.4 billion contract for the Royal Navy's new attack submarine, Agamemnon.
NATO deployment
Media today cover Defence Secretary Sir Michael Fallon's visit to Estonia to meet British troops deployed with NATO. Sir Michael witnessed the launch of the UK-led enhanced Forward Presence, where an 800-strong battle group will work alongside Estonian, French and Danish partners.
Defence Secretary Sir Michael Fallon said:
The troops I have met today are part of one of the UK's largest ever deployments to Eastern Europe. This marks our commitment to European security and standing with our allies in the face of an increasingly assertive Russia.
Read more about this deployment here.
Agamemnon contract
There is various reporting that the MOD has agreed a new £1.4 billion contract with BAE Systems for the Royal Navy's new attack submarine, Agamemnon - the sixth in a total fleet of seven. Coverage is included in the Daily Mail, The Telegraph Business section and The Mirror.
Defence Secretary Sir Michael Fallon said:
This latest investment means we are well on our way to completing our fleet of Astute submarines. These are the most advanced submarines ever operated by the Royal Navy and are already providing unprecedented levels of stealth and attack capability across the world.

Backed by a rising defence budget and a £178 billion equipment plan, Barrow will remain the hub of our submarine build programmes providing high skilled jobs for years to come.
Read more on this here.
US Air Force
The Daily Star today reports that new US Air Force F35 A-Lightning II jets are stationed at RAF Lakenheath to take part in training drills across Europe. Comments are carried from Commander of RAF 48 Fighter Wing, Colonel Evan Pettus, who said the UK is "honoured" to welcome the jets.
An MOD spokesperson said:
We welcome the US deployment of eight aircraft, which underlines that we stand side-by-side with our closest ally. The US decision to use RAF Lakenheath as the base for the F-35A Lighting II's first overseas training is a clear demonstration of the closeness of this partnership, as well as the US commitment to NATO and Europe. Training alongside each other will be beneficial for both the Royal Air Force and US Air Force.
Image of the Day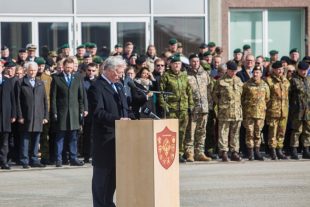 Follow us on Twitter, Linked in and Instagram and don't forget to sign up for email alerts.