Today's defence news is led by Royal Navy ship HMS Enterprise returning home after 3 years on operations.
HMS Enterprise
Amongst others, The Daily Mail, The Sun, and Plymouth Herald all report on the return of HMS Enterprise to the UK after three years abroad.
Reports mention that the ship had been working to disrupt people smuggling routes, destroyed 117 unseaworthy vessels used by people traffickers, and saved more than 9000 people from the Mediterranean during the refugee crisis. They also report that the ship helped evacuate more than 200 British citizens from Tripoli, the capital of Libya. 
Minister of State for the Armed Forces Mike Penning said:
During her three years deployed away from the UK, HMS Enterprise and her ship's company have helped make the world a safer place.

From disrupting people smuggling in the Mediterranean to assisting in the free flow of trade in the Gulf, and from providing reassurance to our overseas territories to surveying the world's oceans, she has epitomised how the Royal Navy is protecting the UK's global interests.
Commander Philip Harper, Commanding Officer of HMS Enterprise said:
The crew of HMS Enterprise are justly proud of the work they have done since deploying, and the wide variety of operations will be hard to match in the rest of our careers.

At the same time, we are all really looking forward to coming home. The results of our deployment speak for themselves and we are all eager to spend some time with our families before the ship deploys again later this year.
You can read more here.
Royal Navy Channel Escort
Coverage of HMS Sutherland escorting two Russian warships as they passed through the English Channel continues in regional media, including in the Plymouth Herald and the Eastern Daily Press.
Defence Secretary Sir Michael Fallon said:
HMS Sutherland is carefully marking these Russian ships as they pass close to UK waters. The Royal Navy maintains a vigilant watch and is always ready to keep Britain safe.
Commander Andrew Canale, the Commanding Officer of HMS Sutherland, said:
As one of the Royal Navy's high readiness units, HMS Sutherland is required to escort warships that approach the UK and this task is considered routine business for us.

It is vitally important the Royal Navy demonstrates its presence and commitment to the integrity of UK territorial waters as we work around the clock to secure the seas of our island nation.
You can read more here.
Image of the day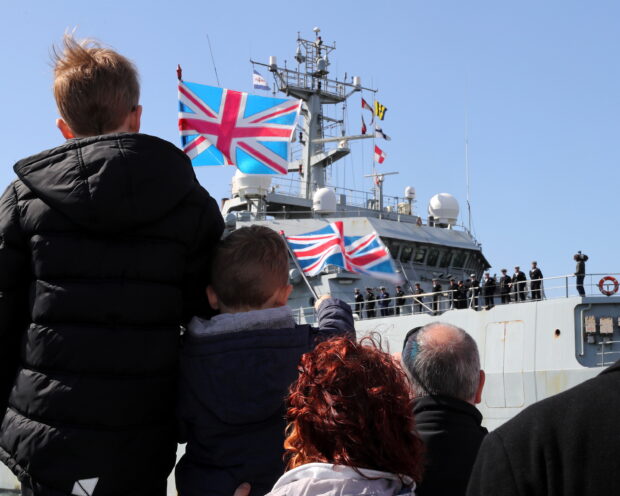 Follow us on Twitter and don't forget to sign up for email alerts.