Defence news today features coverage of Saturday's Trooping the Colour events in London, including a ceremony on Horse Guards Parade and a flypast over Buckingham Palace.
Trooping the Colour
There is widespread coverage in the papers today of yesterday's Trooping the Colour event to mark the Queen's birthday. Reporting reflects that a ceremony  involving 1,600 guardsmen and 244 horses took place on Horse Guards Parade, and that a flypast was carried out over Buckingham Palace involving 29 Royal Air Force aircraft, including Spitfires, Hurricanes and the RAF's aerobatic display team the Red Arrows.
See more images of the Trooping the Colour events on Defence Imagery. Additional images can be seen here.
Charity project
The Sunday Times today reports that charity project High Ground, which has provided support to servicemen and women, is facing closure, adding that the Ministry of Defence is not financially contributing to the charity.
An MOD spokesperson said:
We recognise the important contribution made by charities in helping our Armed Forces, but there will always be some instances when we're not able to use public money to support their services. Our priority is making sure our people are getting the best possible care and we will work with High Ground and other charities to make sure this continues.
Image of the Day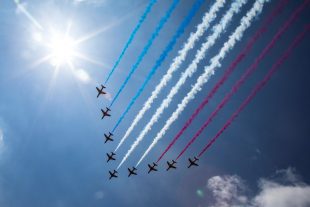 Follow us on Twitter, Linked in and Instagram and don't forget to sign up for email alerts.