Defence news today features coverage of the launch of the Veterans' Gateway, the conflict in Syria and the start of events to mark Armed Forces Day on Saturday.
Veterans' Gateway
The Times, BBC Breakfast, Sky News and ITV's Good Morning Britain all reported on the launch of the Veterans' Gateway, a new 24 hour service which will help veterans access the support they need quickly and easily as they transition from military to civilian life. The service has been backed by £2 million from the Ministry of Defence's Covenant Fund.
Tobias Ellwood, Minister for Defence People and Veterans said:
The vast majority of our people make a smooth transition from military to civilian life, but the Veterans' Gateway provides extra support in the form of a staffed, 24-hour, one-stop-shop offering guidance on housing and employment, finance, mental and physical health. Our £2 million investment honours the nation's Armed Forces Covenant and draws all facets of support for our Armed Forces community together for the first time.
More information on the Veterans' Gateway can be found here.
Syria
The Times  Daily Express,  The Sun, Daily Mirror, Daily Mail and Daily Telegraph report that Russia yesterday said that it would track American and British military jets over Syria after a US F-18 Super Hornet shot down a Syrian government SU-22 fighter-bomber in Raqqa province.
A Government spokesperson said:
"Air operations continue and de-confliction measures are ongoing. We call on Russia to continue to use these measures. We want all parties to focus on the fight against Daesh in Iraq and Syria."
Image of the day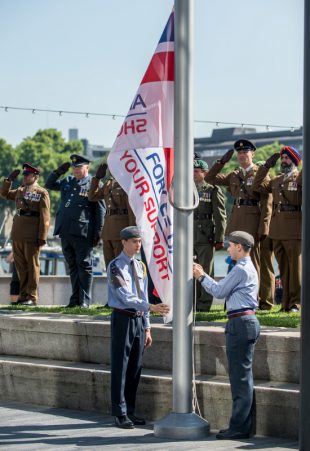 Follow us on Twitter, Linked in and Instagram and don't forget to sign up for email alerts.