Today's defence news includes the unveiling of the first ever memorial to African and Caribbean servicemen and women; and a £260 million job-sustaining MOD contract for an advanced identification system.
Memorial to African and Caribbean Service Personnel
There is coverage in the Evening Standard, ITV News, and BBC News of the unveiling of the first ever memorial to African and Caribbean servicemen and women, attended by Defence Secretary Sir Michael Fallon and Mayor of London Sadiq Khan. The permanent memorial was unveiled at Windrush Square, Brixton, on Thursday 22 June in a ceremony witnessed by veterans of the Second World War and more recent conflicts.
Defence Secretary Sir Michael Fallon said:
"The UK is indebted to all those servicemen and women from Africa and the Caribbean who volunteered to serve with Britain during the First and Second World Wars. It is thanks to their bravery and sacrifice that we are able to enjoy our freedoms today. We should also congratulate those who have worked tirelessly to place this memorial in the heart of Brixton."
£260 million job-sustaining contract for advanced identification system
The Telegraph and local media report that the MOD has announced a £260 million contract with UK-based company Leonardo, which will see hundreds of pieces of equipment installed with the next-generation Mode-5 Identify Friend or Foe (IFF) system. Mode-5 will help the UK's Armed Forces to distinguish friend from foe across complex future battlefields, as well as ensure our NATO partners can recognise us as an ally. This will reduce the threat of friendly fire during coalition operations. The work will also sustain around 150 skilled jobs at Leonardo's sites in Luton, Edinburgh, and across the UK supply chain.
Minister for Defence Procurement Harriett Baldwin said:
"This £260 million contract for battle-winning technology builds on decades of operational experience to keep UK pilots, soldiers and sailors safe on operations.

"It is yet another example of the jobs and skills-sustaining impact of the Government's £178 billion equipment plan to supply the UK's armed forces with the best possible kit."
Defence Equipment and Support (DE&S) Chief Executive Officer Tony Douglas said:
"Advances in digital and cyber warfare mean that it's never been more important for UK military forces to have the kind of confidence in their situational awareness that Mode-5 IFF instils.

"The installation of this world-leading system will continue to give our fighting men and women a decisive edge on operations."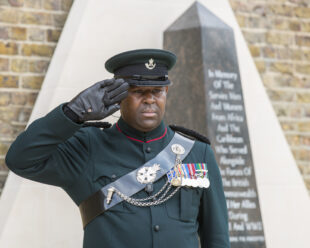 Follow us on Twitter, Linked in and Instagram and don't forget to sign up for email alerts.