Today's defence related news includes the announcement that the Ministry of Defence has awarded a £135million contract to provide facilities to support the new fast jets at RAF Marham.
F-35 Lightning
Marking an important milestone in the UK's F-35 Lightning programme, the Defence Secretary has announced that the Ministry of Defence has awarded a £135million contract to provide facilities to support the new fast jets at RAF Marham, creating local jobs.
The work will deliver a new aircraft hangar capable of housing 12 of the new fast jet aircraft, from which they will deploy to our Queen Elizabeth Class carriers giving the UK world class carrier strike capability. It will improve existing facilities, including resurfacing two existing runways and taxiways, while the Station remains operational. Vertical Landing Pads will also be added to RAF Marham, accommodating the F-35B's ability to land vertically, a capability previously covered by the Harrier jets.
The announcement was covered on BBC Look East, ITV Anglia and the Eastern Daily Press as well as on other local outlets.
Defence Secretary, Sir Michael Fallon, said:
Flying from our new Queen Elizabeth Class carriers, the F-35B aircraft will provide the UK with the ability to project our influence globally. This contract will ensure that RAF Marham has the facilities to match this world-class aircraft when it arrives next year.

Throughout the F-35 programme, British firms have won major contracts creating thousands of jobs. The contract to improve the runways and taxiways as well as installing new landing pads will bring local jobs to Marham.
Read more about this here.
Scotland
UK investment, innovation, and support for Scottish jobs and skills were the focus for Defence Minister Harriett Baldwin today. Mrs Baldwin met Scottish SMEs and apprentices at the Defence Suppliers Forum near Edinburgh. The MOD spent £1.5 billion with Scottish businesses last year and supports 9,700 jobs across Scotland, with the Royal Navy's new Queen Elizabeth Carriers being built in Rosyth and new Offshore Patrol Vessels under construction in Govan and Scotstoun ahead of this summer's Type 26 Frigate steel cut.
Minister for Defence Procurement Harriett Baldwin said:
Scotland is on the front line defending the United Kingdom from growing threats on land, air, and sea; and the Government is listening to Scottish business and building skills to keep the UK safe, secure, and prosperous.

This is yet more evidence of our unquestionable commitment to defence and industry in Scotland, as our rising defence budget and £178bn equipment plan supports Scottish business, jobs, and skills far into the future.
Read more on this here.
Leigh Day
The Times features Martyn Day's first interview since being cleared of misconduct charges. The story is also covered in The Guardian.
An MOD spokesman said:
While we are disappointed the Tribunal has not agreed with the concerns we raised in the way they did with Phil Shiner's Public Interest Lawyers, we will continue to both vigorously defend any opportunistic claims when we believe they are false or exaggerated and bring any evidence of wrongdoing to the attention of supervising bodies.
Image of the day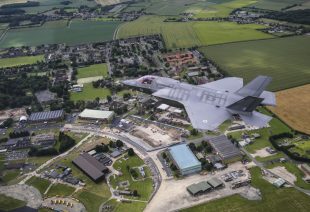 Follow us on Twitter, Linked in and Instagram and don't forget to sign up for email alerts.