Today's defence news includes the RAF has opening all its roles to women and the return of HMS Penzance to her home port.
RAF opens all roles to women
Yesterday saw the RAF become the first service to all branches and trades to women. The Defence Secretary Sir Michael Fallon announced in July that the RAF Regiment, which protects bases and airfields across the world, would open all its roles to women ahead of schedule on 1 September 2017.
Following widespread coverage yesterday, the news is reported this morning in The Times, The Independent, The Guardian, The Scotsman, The Glasgow Herald, Aberdeen Press & Journal, Daily Record, Daily Mirror, Daily Express, and Daily Telegraph.
Defence Secretary Sir Michael Fallon said:
A diverse force is a more operationally effective force. So I'm delighted that the RAF Regiment is today open to applications from women. Anybody who is capable of meeting the standards for the regiment will be given the opportunity to serve, regardless of their gender. This is a defining moment for the RAF, as it becomes the first service to have every trade and branch open to both genders.
HMS Penzance returns to home port of Faslane
The Scotsman, Aberdeen Press & Journal, Daily Star, The Glasgow Herald, and Daily Record all focus on the surprise proposal of Petty Officer Mark Titman, 34, who got down on one knee on the deck of HMS Penzance while his crew mates held a banner which said "Will you marry me?".
Sandown Class Mine Counter Measures Vessel HMS Penzance is one of seven such ships operating from Her Majesty's Naval Base Clyde. In January 2017 she was one of five Royal Navy vessels which joined United States Mine Hunting vessels and aircraft to take part in a major exercise in the Arabian Gulf, testing their prowess in locating underwater explosives.
Commanding Officer, Lieutenant Commander Jim Lovell, said:
The ship has performed everything asked of her during the deployment and I could not be more proud of my Ship's Company.

A professional and versatile team, they have delivered everything I have asked of them but now it's time for some very well earned leave.
Today's featured image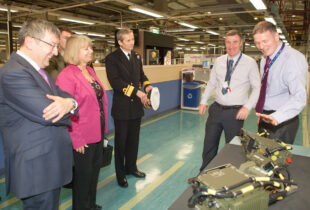 Follow us on Twitter, Linked in and Instagram and don't forget to sign up for email alerts.