Today's defence-related news includes coverage of the successful first firings of Sea Ceptor missiles, and further reporting on the Armed Forces recruitment report.
First firings of Sea Ceptor missiles
After a visit by the Defence Minister Harriett Baldwin to MBDA in Filton yesterday, the BBC, Mail Online, The Sun, The Daily Mirror, Press & Journal, The Scotsman and The Herald all report on successful first firings of Sea Ceptor missiles. The new air missile defence system, which can intercept and destroy enemy missiles travelling at supersonic speeds, will form part of the protection for the nation's new aircraft carriers and support UK jobs.
Minister for Defence Procurement Harriett Baldwin said:
Sea Ceptor will protect our interests against threats both known and unknown. It will launch from the Royal Navy's new Type 26 frigates as they keep our nuclear deterrent submarines and the UK's two new aircraft carriers safe on operations around the globe.

Sea Ceptor supports 600 UK jobs and is yet another example of how our rising defence budget is being spent on cutting-edge kit to help our Armed Forces meet future threats.
Watch a video of the first firings here.
Armed Forces recruitment report
Following the release of a report on Armed Forces recruitment by Mark Francois MP earlier this week, The Times, The Daily Mirror, The Independent and The Daily Star have commented on the report's findings.
An MOD spokesperson said:
We thank Mr Francois for his report and agree that recruitment is one of the MOD's top priorities. Joining the military offers the opportunity for a great career, learning new skills and gaining unique experiences not available in civilian life. We're aware of and working on the issues outlined in the report, including investing in recruiting the next generation of talent, diversifying our workforce and increasing our reserve numbers.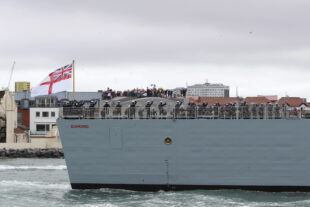 Follow us on Twitter, Linked in and Instagram and don't forget to sign up for email alerts.