Today's defence related media continues coverage of the UK response to Hurricane Irma, major Russian military exercise Exercise Zapad, a contract worth up to £55 million for 56 innovative bomb disposal robots and a profile of Lt Cdr Charlie Deal, HMS Prince of Wales' Senior Weapons Engineering Officer.
Hurricane Irma
BBC Radio 4 Today, BBC Breakfast, ITV Good Morning Britain and Sky News all report that Foreign Secretary Boris Johnson has returned from the Caribbean and is to hold a high level meeting with his US counterpart Rex Tillerson to discuss the international response to Hurricane Irma, as well as a number of other issues including Libya and North Korea.
The Sun reports that 200 extra troops were yesterday on their way to the Caribbean and that HMS Ocean has sailed for the region from Gibraltar. The Times, The Guardian, Independent and Press and Journal (Aberdeen) all report on the Foreign Secretary's visit to the region and the announcement of an additional £25m in funding from the Government, alongside images of military personnel helping in the recovery operation.
Read more about the Government's response to Hurricane Irma and advice for British Nationals affected by the hurricane.
Exercise Zapad
BBC Breakfast and BBC Radio 4  are both reporting the start of exercise ZAPAD 17 in a major Russian military exercise which includes 100,000 Russian military personnel.
The Defence Secretary Sir Michael Fallon writing in the Daily Telegraph on 9th September, said:
This is an exercise but it is clearly designed to test us. And given Russia's recent behaviour we need to be vigilant. In the last decade, we've witnessed Russia's intervention in Georgia and in Ukraine. We continue to see Russian involvement in Syria prolonging that dreadful civil war. We've had Russian pilots buzzing NATO planes and ships, defying international protocols.  We have seen Russian interference in elections in the United States, in Montenegro, and elsewhere using social media, fake news and disinformation to undermine democracies.
Bomb disposal robots
The Independent and The Guardian reports on the Defence Secretary's announcement of a new contract worth up to £55 million for 56 innovative bomb disposal robots at the Defence and Security Equipment International (DSEI) Exhibition in London. Coverage quotes from the Defence Secretary's speech and includes his call for increased arms exports after Brexit.
Defence Secretary Sir Michael Fallon said:
With our rising defence budget, we are investing in the latest equipment for our Armed Forces to tackle the growing threats we face. These state-of-the-art bomb disposal robots will be powerful and reliable companions to our troops on the battlefield, keeping them safe so they can help keep us safe.
Find out more about this story here.
Royal Navy engineers
The Times has published a profile of Lt Cdr Charlie Deal, HMS Prince of Wales' Senior Weapons Engineering Officer. In a positive piece, Lt Cdr Deal is interviewed about her career in the Navy and her new role managing a team of 50 engineers on board the second of the QE class aircraft carriers.
Image of the Day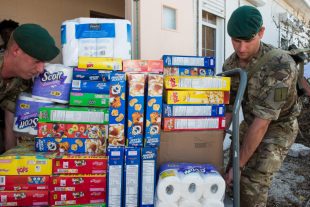 Follow us on Twitter, Linked in and Instagram and don't forget to sign up for email alerts.