Today's defence related media reports on the Royal Navy fleet and Russian military exercise Zapad. 
Royal Navy fleet
Today's Daily Telegraph splashed on criticisms of the Navy, with comments focusing on the size of the fleet and inaccurate reporting of HMS Ocean suffering engine problems.
As a matter of policy we do not routinely discuss the capabilities of our units, however, in contrary to these reports, there have been over 30 ships and submarines deployed on operations this week.
Additionally, in the department's response to Hurricane Irma, HMS Ocean was not delayed and has suffered no engine problems.
HMS Ocean is currently sailing to the region and is scheduled to arrive next week. She only spent 1 day alongside in Gibraltar picking up stores. She is carrying 60 pallets of Emergency Relief Stores to assist with the long term reconstruction effort, including plywood, timber and construction equipment, as well as 200 pallets of Department for International Development (DFID) aid. This includes 5,000 hygiene kits, 10,000 buckets and 504,000 Aquatabs.
An MOD spokesperson said:
We are growing the Royal Navy for the first time since the Second World War. Our Navy can already carry out all its operational requirements, is over 97% recruited and, with two types of brand new frigates and two huge aircraft carriers in the pipeline, the UK is fulfilling its global maritime role.
Exercise Zapad
The Times reports that Russia and Belarus began large-scale military exercises to practise repelling aggressive Western states yesterday as Nato countries looked on nervously. It writes that thousands of soldiers and scores of jets and tanks were due to play out a scenario.
The Defence Secretary Sir Michael Fallon writing in the Daily Telegraph on 9th September, said:
This is an exercise but it is clearly designed to test us. And given Russia's recent behaviour we need to be vigilant. In the last decade, we've witnessed Russia's intervention in Georgia and in Ukraine. We continue to see Russian involvement in Syria prolonging that dreadful civil war. We've had Russian pilots buzzing NATO planes and ships, defying international protocols.  We have seen Russian interference in elections in the United States, in Montenegro, and elsewhere using social media, fake news and disinformation to undermine democracies.
Image of the Day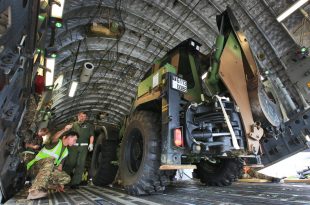 Follow us on Twitter, Linked in and Instagram and don't forget to sign up for email alerts.