Today's defence related news includes coverage of cadet units and RAF jets being scrambled.
More cadet units in schools across the country
Media report today on the Defence Secretary's announcement that 31 new cadet schools will be set up across the country, forming part of a government plan to have 500 cadet units in schools by 2020. Coverage, including in The Daily Star, Independent, ITV News, York Press, Times Educational Supplement and Daily Mail, note that the schools are aimed at giving people from 'all backgrounds' the opportunity to join the cadets, with new units focusing on 'the poorest areas' hoping this will 'instil values of discipline and loyalty.'
Coverage in The Daily Star and the Daily Mail both note on how these The Independent and the Daily Mail also report the research by University of Northampton which shows cadet forces contribute to increasing social mobility and help improve attendance and behaviour among pupils who have previously been excluded.
You can read more about the cadets announcement here.
Quick Reaction Alert
There's reporting this morning that RAF jets intercepted a civilian airliner, including on BBC news.
An RAF spokesperson said:
The RAF can confirm Quick Reaction Alert Typhoon aircraft were launched this morning from RAF Coningsby to intercept a civilian aircraft. The aircraft was safely escorted to Stansted airport. The Typhoon aircraft were authorised to transit at supersonic speed for operational reasons; any inconvenience caused to local residents is regretted.
Queen's Dragoon Guards
The Daily Telegraph, Daily Star and Scotsman continue to report on the soldiers from the Queen's Dragoon Guards who helped to provide first aid to victims of the shooting in Las Vegas with theDaily Star noting how the Prime Minister has praised the British troops.
An Army spokesperson said:
We can confirm that a number of serving personnel from 1st The Queen's Dragoon Guards provided assistance to the wounded following the heinous shooting in Las Vegas.  Our thoughts go out to those affected by this terrible act.
Army Air Corps
The Times this morning speculates on the size of the Army Air Corps.
An MOD spokesperson said:
In the face of ever-changing threats, we are contributing to the cross-government review of national security capabilities and looking at how we best spend our rising defence budget to support that.
An Army spokesperson said:
The examination of aviation structures as part of the Army structural change work to implement SDSR15 is on-going. Final decisions on structures, locations and personnel numbers are not expected until the end of the year. These final decisions will also be informed by the outcomes of the Department's current financial planning round and the National Security and Capability Review.
Image of the day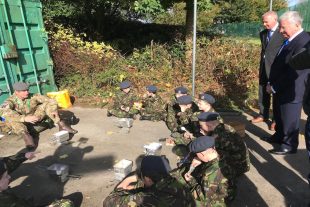 Defence Secretary Sir Michael Fallon observes a cadet training session at the Albion Academy inManchester yesterday.