News of the RAF's campaign against Daesh and proposed workforce reductions from BAE Systems dominate defence news this morning.

CAMPAIGN AGAINST DAESH
The Daily Express reports that RAF warplanes are pounding the last footholds of Daesh in Iraq and Syria. The article notes that over the last few weeks, Typhoons, Tornados and Reaper drones have destroyed targets including a jihadi convoy, a truck bomb factory and mortar teams.
Several raids have also been carried out against Daesh fighters in Dayr az Zawr in eastern Syria, the paper says. The article goes on to say that the RAF has carried out more than 1500 air strikes against Daesh over the past three years, killing more than 3000 extremists.
Read more here.
RAF MARHAM READIES FOR F35s
The Eastern Daily Press reports that the Defence Infrastructure Organisation has finished resurfacing work as part of a £250 million upgrade to RAF Marham. New hangars, repair works and a command centre are also being built at the Norfolk base for the arrival of the RAF and Royal Navy's new F35 Lightening fast jets.
Read more here.
BAE SYSTEMS
There's widespread coverage this morning on BAE Systems' decision yesterday to announce proposed workforce reductions, including in The Independent, Daily Telegraph, and the Daily Mirror.
A UK Government spokesperson said:
BAE Systems have taken this decision as a result of internal restructuring – it is clearly a concerning time for their workers and the government stands ready to support those affected.

Our MOD spent £3.7bn with BAE last year, and we also continually bang the drum for our world-leading defence industry right across the globe, supporting companies like BAE in securing contracts for UK-made equipment. Just last month the Defence Secretary signed a Statement of Intent with Qatar to buy 24 Typhoons and 6 Hawks from BAE.
Read more about the Qatari announcement during the Defence Secretary's visit to the Gulf last month here.
IMAGE OF THE DAY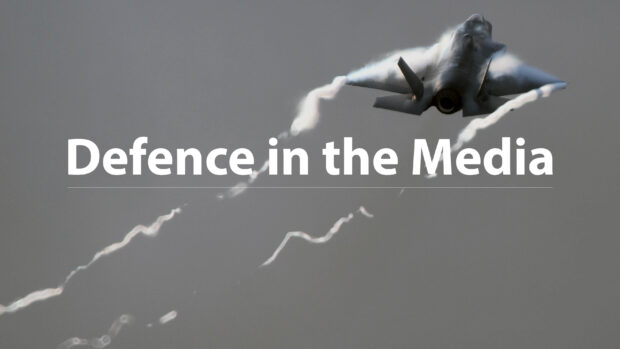 Follow us on Twitter, Linked in and Instagram and don't forget to sign up for email alerts.