Today's media includes news on the National Shipbuilding Strategy, whilst an Army documentary aired on BBC 2 last night.

BAE SYSTEMS SIGNS TYPE 31e AGREEMENT WITH CAMMELL LAIRD
In response to the MOD's evolving requirements as outlined in the National Shipbuilding Strategy, outlets including the Daily Telegraph, The Sun and the Daily Mail report that BAE Systems has announced that it will 'bring together its warship design and engineering capability and combat systems expertise' with Cammell Laird, the commercial shipbuilder, in a Teaming Agreement to bid for the manufacture of the Type 31e.
Read more about the National Shipbuilding Strategy here.
Defence Secretary Sir Michael Fallon said:
This new approach will lead to more cutting-edge ships for the growing Royal Navy that will be designed to maximise exports and be attractive to navies around the world.

Backed up by a commitment to spend billions on new ships, our plan will help boost jobs, skills, and growth in shipyards and the supply chain across the UK.
The Glasgow Herald questions what the news might mean for Scottish shipbuilding.
An MOD spokesperson said:
The Defence Secretary gave 20 years of work to the Clyde this summer, safeguarding over 4,000 Scottish jobs, when he announced the £3.7bn contract for the first three of eight cutting-edge Type 26 frigates. No other industry anywhere in the country has that level of certainty and, as a result of the National Shipbuilding Strategy, the yard is able to compete for the lighter Type 31e frigate too.
BBC 2's 'Army: Behind the New Frontlines'
Episode one, 'The Battle for Mosul', aired last night.
It featured solders from 1st Battalion The Rifles mentoring the Kurdish Peshmerga at the Al Asad Airbase and 4th Battalion The Rifles providing training to the Iraqi army. The focus was on the Army's work to help the Iraq National Army retake Mosul from Daesh.
It featured interviews with Major General Rupert Jones who said:
Daesh is a brutal regime. We are not doing the fighting, we are providing the Iraqis with advice and supporting them from the air. This lays the ground for a far more longer lasting solution because they are the ones retaking their country.
IMAGE OF THE DAY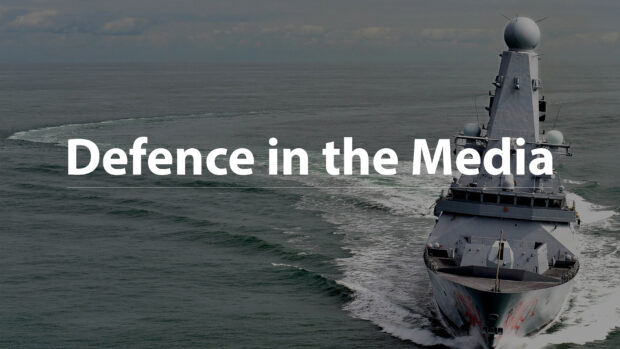 Follow us on Twitter, Linked in and Instagram and don't forget to sign up for email alerts.