Today's defence-related news includes further coverage of the Defence Secretary's first visit to NATO and compensation to service personnel.
Defence Secretary visits NATO
The Times and The Sun report on the attendance of the Defence Secretary at the NATO Defence Ministerial and meeting of the Counter-Daesh Coalition in Brussels. The Sun report that the UK will send four RAF Typhoons to Romania next year, while The Times referenced the Defence Secretary meeting the US Defense Secretary General Mattis in the UK today.
Read more here.
Compensation to the Armed Forces
The Daily Telegraph reports that a serviceman has been awarded compensation after suffering severe injuries during a winter training camp in Norway.
An MOD spokesperson said:
When compensation claims are received they are considered on the basis of whether or not the MOD has a legal liability to pay. Where there is proven legal liability, compensation is paid.
Image of the day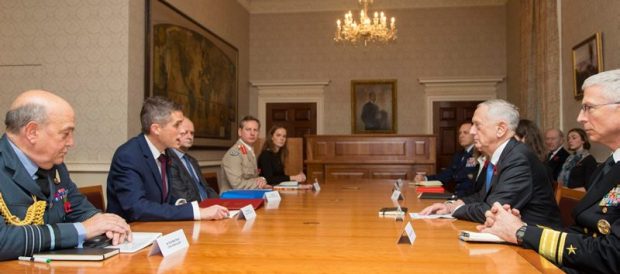 Follow us on Twitter, Linked in and Instagram and don't forget to sign up for email alerts.