There is further coverage today of Defence Secretary Gavin Williamson at the NATO and Counter-Daesh Ministerial meeting in Brussels and of comments yesterday by outgoing Commander of the US Army in Europe.
NATO and Counter-Daesh Ministerials
On the second day of the NATO Ministerial meeting in Brussels and speaking ahead of a Counter-Daesh meeting this afternoon, the Defence Secretary appeared on Sky News and the Daily Star reported on yesterday's announcement on the redeployment of RAF Typhoons to Romania.
Defence Secretary Gavin Williamson said:
We are going to be talking primarily about the work that has to be delivered in Iraq and Syria. We've already committed extensively to operations there, degrading Daesh forces across Iraq and Syria. What has been so positive is that over 5m people have been liberated as a result of our actions and 60,000 Iraqi troops have been trained. But let us not be complacent. There is still a job to be done, and until Daesh has been totally degraded and destroyed we will continue fighting.
Warning on cuts from head of the US Army in Europe
Following an interview with the BBC yesterday, comments by US Lieutenant-General Ben Hodges have been reported in The Times, Daily Mail, The Telegraph and Daily Mirror. The Telegraph says that former Chief of the General Staff Lord Dannatt welcomes the comments and that chairman of the House of Commons Defence Select Committee, Julian Lewis, argues that spending 2% of GDP on defence is actually too little.
A Ministry of Defence spokesperson said:
The national security capability review is designed to ensure the UK has the capabilities to tackle today's threats, not just yesterday's wars. We are a leading member of NATO and the review will mean Britain is better placed to work with allies to tackle intensifying dangers from cyber attacks, ballistic missiles to Russian belligerence on Europe's borders. No decisions have yet been made and at this stage, any discussion of the options is pure speculation.
A US Embassy spokesperson said:
The UK is one of only a handful of NATO member countries that is meeting NATO's two percent spending pledge and it is helping us to encourage other members to meet their commitments.  We welcomed the UK decision last year to increase defense spending and that the British government has now committed to increasing spending over inflation every year for the next five years.

The US-UK defense relationship is as strong as ever.  We are committed to working with the UK Armed Forces to help ensure they remain a full-spectrum defense and security partner, maintain interoperability with US forces, and continue to lead in the full range of NATO missions.
Image of the day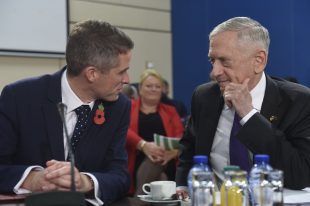 Follow us on Twitter, Linked in and Instagram and don't forget to sign up for email alerts.