Today's defence news includes the Defence Secretary's visit to RAF Coningsby and how businesses across the UK have helped build the nation's new Aircraft Carriers.
RAF Coningsby visit
The Horncastle News, the Skegness Standard and the Market Rasen Mail all include pieces about Defence Secretary Gavin Williamson's visit to RAF Coningsby yesterday.
The Telegraph (Business) prints an image of the Defence Secretary in the cockpit of a Typhoon.
Defence Secretary Gavin Williamson said:
My visit today to RAF Coningsby showed that our Air Force is in great shape for the next 100 years with state of the art equipment, a dedicated team and strong connections with industry. It was great to meet with personnel who are keeping Britain safe by defending the skies of the UK and working with our NATO allies to defeat evil Daesh in Iraq and Syria.
Aircraft Carriers
City AM reports that Minister for Defence Procurement Harriett Baldwin has recognised the contribution of hundreds of UK businesses to the building of the Royal Navy's two new Aircraft Carriers. The piece says that over 10,000 people from more than 700 small and medium-sized firms helped to build the nation's future flagships.
Defence Minister Harriett Baldwin said:
On behalf of Defence, the government and the whole of the United Kingdom, I would like to thank the hundreds of businesses around the country for the millions of hours they've spent equipping our ships in what has been an immense nationwide enterprise.

Their Herculean efforts showcase our great British talent and saw HMS Queen Elizabeth complete her 2017 sea trials with flying colours as she prepares to project our interests right across the world.
 Image of the day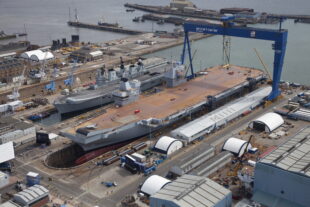 Follow us on Twitter, Linked in and Instagram and don't forget to sign up for email alerts.