Today's defence related news includes coverage of HMS Echo rescuing over 200 migrants attempting to cross the Mediterranean.
HMS Echo rescues over 200 migrants in the Mediterranean. 
The Daily Mail and The Sun report that HMS Echo yesterday rescued 240 migrants attempting to cross the Mediterranean. This brings the total number of people recused on Operation Sophia by the Royal Navy to over 18,000. The Daily Mail article quotes Commander Andrew Northgate of HMS Echo who said that "his sailors had worked to disrupt the criminal networks that sustain illegal migration flows".
Defence Secretary Gavin Williamson said:
This is a significant rescue operation and underlines our commitment to saving the lives of innocent people, as well stopping those responsible for smuggling them across perilous waters.

British ships and their crews have played an integral role in the Mediterranean. There are 18,000 men, women and children who may not be alive today if it was not for the dedicated work of our sailors on the sea.
Future of HMS Ocean
The Daily Mail and The Sun speculate this morning on the future of HMS Ocean and its potential sale to Brazil.
An MOD spokesperson said:
Discussions with Brazil over the long-planned sale of HMS Ocean are at an advanced stage, but no final decisions have been made. HMS Ocean has served admirably with us since 1998 and the revenue she generates will be reinvested in defence as we bolster our Royal Navy with two types of brand new frigates and two huge aircraft carriers.
Image of the day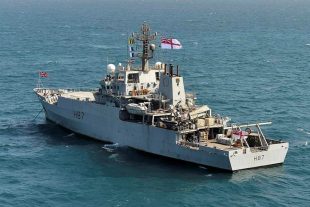 A stock image of HMS Echo, which yesterday rescued over 200 migrants in the Mediterranean