Today's defence-related news includes reporting of the DSTL's CEO Gary Aitkenhead's interview at Porton Down and coverage of Major Robert Campbell.
DSTL CEO Comments on Novichock
Most media outlets, including the I, Guardian, Independent and The Times, reported on DSTL's CEO Gary Aitkenhead's interview about Porton Down's involvement in the Salisbury poisoning incident.
A Government spokesperson said:
We have been clear from the very beginning that our world leading experts at Porton Down identified the substance used in Salisbury as a Novichok, a military grade nerve agent.

This is only one part of the intelligence picture. As the Prime Minister has set out in a number of statements to the Commons since 12 March, this includes our knowledge that within the last decade, Russia has investigated ways of delivering nerve agents probably for assassination – and as part of this programme has produced and stockpiled small quantities of Novichoks; Russia's record of conducting state-sponsored assassinations; and our assessment that Russia views former intelligence officers as targets.

It is our assessment that Russia was responsible for this brazen and reckless act and, as the international community agrees, there is no other plausible explanation.
BBC Interview with Robert Campbell
Covered today in the Daily Telegraph and the Daily Mail is Major Robert Campbell's appearance on Radio 4 yesterday, where he spoke about the legal process following his service in Iraq.
An MOD spokesperson said:
It's right that we hold our Armed Forces to the highest standards and we have a legal obligation to investigate allegations of wrong doing.

We deplore false or unfair allegations against our service personnel and when they have been made we've taken action, supplying evidence to have Phil Shiner struck off and closing IHAT.

The High Court has ordered the Iraq Fatalities Investigations, which is a civil process looking into the circumstances of alleged unlawful deaths of Iraqis. It can only take place when criminal proceedings have been ruled out. It is not an investigation into any particular individual.
Image of the Day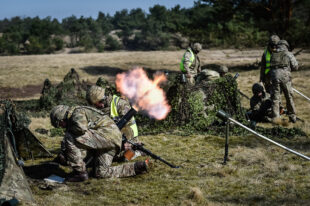 Follow us on Twitter, Linked in and Instagram and don't forget to sign up for email alerts.