Today's defence-related news includes reporting of the death of a UK soldier in a diving accident and an Iraq Fatalities Investigation.
Lance Corporal George Partridge
Most media outlets, including The Times, Daily Telegraph, Daily Star, Daily Mirror, Press & Journal, Guardian, The Scotsman and The Independent report on the death of Lance Corporal George Partridge who died in a tragic diving incident last week at the National Dive Activity Centre, Chepstow.
Armed Forces Minister Mark Lancaster said:
It is with great sadness we must confirm the death of Lance Corporal George Partridge. It's clear from the testaments of his colleagues that he had a bright future in the Army and was held in the highest regard. Our thoughts are with his family and friends at this extremely difficult time.
You can read LCpl Partridge's eulogy here.
Iraq Fatalities Investigations 
The BBC R4 Today programme featured an interview with Major Robert Campbell on an incident in Iraq in 2003.
An MOD spokesperson said:
It's right that we hold our Armed Forces to the highest standards and we have a legal obligation to investigate allegations of wrong doing.

We deplore false or unfair allegations against our service personnel and when they have been made we've taken action, supplying evidence to have Phil Shiner struck off and closing IHAT.

The High Court has ordered the Iraq Fatalities Investigations, which is a civil process looking into the circumstances of alleged unlawful deaths of Iraqis. It can only take place when criminal proceedings have been ruled out. It is not an investigation into any particular individual.
Image of the Day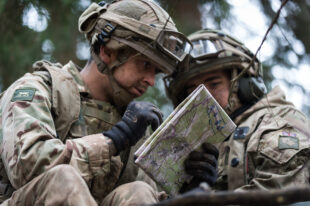 Follow us on Twitter, Linked in and Instagram and don't forget to sign up for email alerts.