Today's defence related news features widespread coverage of the precision strikes by RAF jets and our close allies on Syrian chemical weapon installations.
Airstrikes
Broadcast, print and online media have reported on the UK joining the US and France to deliver targeted strikes on Syrian chemical weapon facilities.
BBC Radio 4's The Today Programme and LBC both featured interviews with the Defence Secretary Gavin Williamson who said:
We have taken this action because we have all seen the images of the suffering of men, women and children. That is why we deployed four Tornados and all the crews have returned safely. We need to ensure other countries do not think it is acceptable to use chemical weapons.
Media outlets also included coverage of the Prime Minister's speech in which she said:
There is no practicable alternative to the use of force to degrade and deter the use of chemical weapons by the Syrian Regime. This is not about intervening in a civil war. It is not about regime change. It is about a limited and targeted strike that does not further escalate tensions in the region and that does everything possible to prevent civilian casualties. And while this action is specifically about deterring the Syrian regime, it will also send a clear signal to anyone else who believes they can use chemical weapons with impunity.
The Defence Secretary Gavin Williamson, said:
The reprehensible use of chemical weapons in Douma is further evidence of the Syrian regime's appalling cruelty against its own people. We will not stand by whilst innocent civilians, including women and children, are killed and made to suffer.

The international community has responded decisively with legal and proportionate military force. Let these united actions send a clear message to the regime – the use of chemical weapons is categorically unacceptable and you will be held to account.
More information about the strikes can be found here.
Image of the day: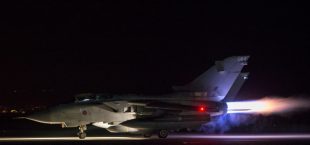 Follow us on Twitter, Linked in and Instagram and don't forget to sign up for email alerts.