Today's defence-related news continues to be dominated by reaction to the airstrikes carried out by the UK, US and France against Syrian President Bashar Al-Assad's chemical weapons facilities.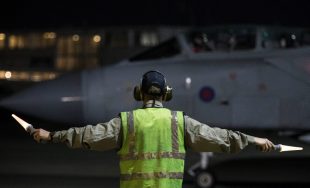 Airstrikes against Syria
An opinion piece by Defence Secretary Gavin Williamson featured in The Sunday Times, in which he outlined the need to take military action and praised the bravery of our Armed Forces personnel.
Defence Secretary Gavin Williamson said
Make no mistake, this co-ordinated and targeted UK response was not a gesture. It follows a week in which the world recoiled in horror at the abhorrent images of children suffering immense pain after a chemical attack in the city of Douma.
The story was widely reported across all national outlets, with The Sun on Sunday, The Sunday Express and The Sunday Mail among those hailing the 'perfect' operation, referencing words from US President Donald Trump on Twitter.
Many of the papers including The Sunday Express The Observer, The Sunday Telegraph and The Glasgow Herald feature imagery of Tornado aircraft being readied in RAF Akrotiri and taking off, while footage also ran on major broadcast bulletins, including BBC, Sky and ITV.
Anthrax vaccinations
The Sunday Express reports that anthrax vaccinations will be sold commercially in the UK, following the Defence Secretary's decision last month to inoculate troops held at the highest readiness.
Defence Secretary Gavin Williamson said
I made the decision to offer the anthrax vaccine to our forces at the highest readiness, providing them with vital protection against a deadly danger.