Friday's defence news covers the PAC report on Armed Forces equipment, shipbuilding in the UK, the 50th Anniversary of HMS Neptune and the managed transition of the Vigilant T1 glider to Viking glider for the air cadets at RAF Topcliffe.
Public Accounts Committee report on Armed Forces equipment
 Daily Mirror, the Telegraph and The Sun all report on the PAC investigation into the MOD's equipment plan.
An MOD spokesperson said:
We are committed to delivering large, complex and technologically challenging defence programmes as part of our £180bn plan to give our military the very best equipment. We recognise financial risk comes with that, but the potential affordability gap highlighted by this report reflects an unlikely, worst-case scenario in which all possibilities materialise.

We are on track to meet our £16bn savings target and will also review these recommendations as part of our Modernising Defence Programme, which aims to strengthen our Armed Forces in the face of intensifying threats.
Shipbuilding in the UK 
The Scotsman, The Glasgow Herald and Press & Journal all report on shipbuilding in the UK.
An MOD spokesperson said:
All our warships are built in the UK and with the Type 26 frigates securing 4,000 jobs and 20 years of work on the Clyde, and British industry preparing to bid for a new Type 31e class, we are witnessing a renaissance in national shipbuilding. We are launching a competition for three new Fleet Solid Support ships this year and strongly encourage British yards to take part. Since 2010 this Government has invested more than £6 billion in shipbuilding in the UK, securing thousands of jobs. While in 2018-19 we expect to spend in excess of £750M supporting the fleet.
Transition from Vigilant T1 Glider to Viking glider 
The Times report on the transition from the Vigilant T1 Glider to the Viking glider for the Air Cadets at RAF Topcliffe.
An RAF Spokesperson said:
The modern RAF Cadet experience constantly looks to the future, making the best use of the ground and air equipment that the RAF has to offer. This seamless transition from Vigilant to Viking will deliver better equipment and have no impact on cadet training.
Image of the Day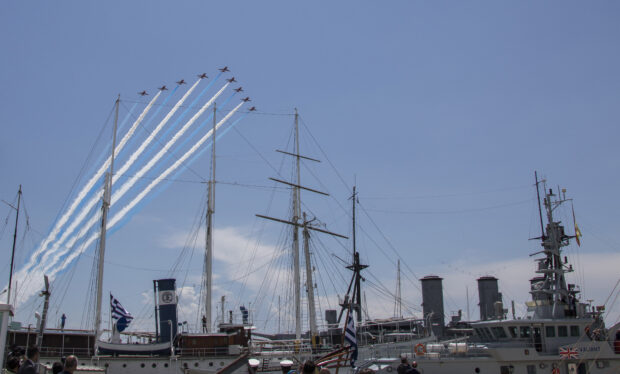 Follow us on Twitter, Linked in and Instagram and don't forget to sign up for email alerts.