Today's news coverage includes Armed Forces Day 2018 and the ongoing work of the Army in support of the Greater Manchester Fire and Rescue Service.
Armed Forces Day 2018
Outlets including the BBC and Sky News report on this year's Armed Forces Day which is hosted in Llandudno.
Coverage highlights the announcement that the UK will hold a national sports event to support the recovery and rehabilitation of injured, wounded and ill British military next year. Organised in partnership with Help for Heroes and the Royal British Legion, this will see over 400 British veterans and personnel participate, helping those with injury or illness overcome mental and physical hurdles.
It was also revealed that Armed Forces Day 2019 will be held in Salisbury in a fitting tribute to the bravery and professionalism shown by the Armed Forces following the nerve agent attack in the city.
Defence Secretary Gavin Williamson said:
Today we mark the tenth Armed Forces Day and it remains a valuable opportunity to honour our troops who work so hard to keep us safe. Our servicemen and women are on hand every hour of every day to protect us from the threats we face and today I encourage people across the UK to come together and salute them for their tireless commitment.

I commend Llandudno for an outstanding event and thank organisers across the country for their efforts to mark Armed Forces Day.
Read more here.
Saddleworth Fire
There is ongoing coverage across broadcast, print and online media concerning the military support provided to the Greater Manchester Fire and Rescue Service following the extension of Army support over the weekend.
Defence Secretary Gavin Williamson said:
I pay tribute to our Armed Forces' professionalism, dedication and sense of duty. They are proving once again that Britain can always depend on our troops to protect us no matter the time, no matter the place, and no matter the problem.
An MOD spokesperson said:
We can confirm that the Army will continue to support Greater Manchester Fire and Rescue Service, after receiving a request to stay on Saddleworth Moor following the initial 48 hour period of support.
Image of the Day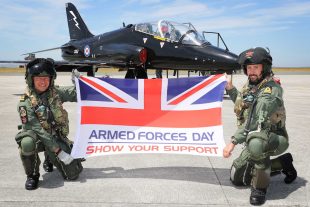 Follow us on Twitter, Linked in and Instagram and don't forget to sign up for email alerts.