Today's defence news is led by more coverage of this year's Armed Forces Day.
Armed Forces Day
Armed Forces Day features across today's papers, including in the Sunday Times, Sunday Express and The Sun. 
Coverage features lots of imagery of the parade, the Red Arrows display and vintage aircraft on-show. The Sunday Express has an editorial which pays tribute to military personnel and to next year's Armed Forces Day host, Salisbury.
Defence Secretary Gavin Williamson said:
Today we mark the tenth Armed Forces Day and it remains a valuable opportunity to honour our troops who work so hard to keep us safe. Our servicemen and women are on hand every hour of every day to protect us from the threats we face and today I encourage people across the UK to come together and salute them for their tireless commitment. I commend Llandudno for an outstanding event and thank organisers across the country for their efforts to mark Armed Forces Day.
Read more about the events here.
India Defence Minister meeting
The Sunday Times reports on speculation about a cancelled meeting between the Defence Secretary and his Indian counterpart.
An MOD spokesperson said:
The UK and India have excellent defence relationships with the Minister for Defence Procurement leading a trade delegation to the country in April and the Armed Forces Minister announcing closer military ties between the two nations in the same month.

The Defence Secretary is due to meet his Indian counterpart in the summer.
RAF Syria strike
The Sunday Times reports that a Typhoon dropped a 500lb laser-guided bomb last month in southern Syria during a firefight, adding that a Syrian army officer was killed and seven others wounded.
An MOD spokesperson said:
The RAF's rules of engagement give our aircraft the right to act in defence of our coalition partners. This was a wholly proportionate response which complied with both International Humanitarian Law and the Law of Armed Conflict. There were no civilian, coalition or partner casualties.
Image of the Day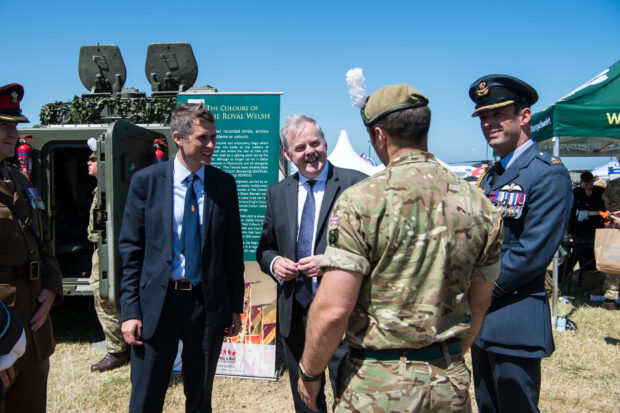 Follow us on Twitter, Linked in and Instagram and don't forget to sign up for email alerts.