Today's defence news features UK Armed Forces combating poaching in Malawi and a Defence Committee report on UK defence in the Artic.
UK Armed Forces combat poaching in Malawi
A comprehensive documentary on counter-poaching efforts in Malawi has been uploaded to BBC iPlayer this morning and is set to feature throughout the day on BBC News and BBC Radio 1 and 4. BBC Online has a feature story on the deployment which includes comments from Lance Corporal Chad Spalding, who trains rangers in the area on how to combat poaching and find endangered animals.
Defence Secretary Gavin Williamson said:
We can be incredibly proud of the important work our Armed Forces are doing to help protect the magnificent animals of Malawi and to bring about the end of the cruel practice of illegal wildlife trading. By passing on their world-class, tried and tested skills, we can be sure that UK troops are aiding a highly skilled and professional network of park rangers, one that can effectively combat the threat poachers pose to the African wildlife.
UK defence in the Artic
The Common's Defence Committee has issued a report 'On Thin Ice: UK Defence in the Artic' which outlines the Russian threat in the region. The Committee calls on the UK to expand its military presence in the Artic to counter Russian activity. The report is covered in print by The Telegraph, The Sun and The Mirror and on broadcast by BBC Breakfast and BBC Radio 4.
An MOD spokesperson said:
There has been a tenfold resurgence in Russian activity in the Arctic and North Atlantic, with Russia investing heavily in its Northern Fleet and taking steps to remilitarise its Arctic territory.

The UK is taking appropriate steps along with the US and other NATO allies to ensure stability is maintained, and are encouraging all members of the Arctic Council to continue engaging constructively on the issues affecting the region.
Image of the Day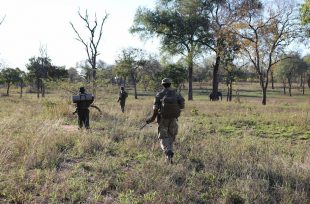 Follow us on Twitter, Linked in and Instagram and don't forget to sign up for email alerts.