Today's defence news includes veterans' wellbeing and the military medical system.
Military healthcare system
The Times reported on the IT system of the Defence Medical Service.
For more detail, please see the Surgeon-General's blog.
An MOD spokesperson said:
"Medical support for our personnel is a top priority. We are proud to have highly-qualified professionals who would never prescribe drugs or deploy troops without doing the appropriate checks. IT issues have been raised in 0.001% of medical consultations over the past two years, and none of these incidents have ever caused any harm.
"As with all systems, problems can occur but are rare. We have a dedicated team ready to fix any issues swiftly and we instruct clinical staff not to undertake non-emergency appointments if healthcare records can't be accessed.
"The Surgeon-General takes any concerns raised by the BMA very seriously and is absolutely committed to rectifying any issues with the current system, whilst ensuring IT is continually upgraded so it is of the highest standard."
Veteran suicides
The Daily Record calls for the Ministry of Defence to start collating figures on veteran suicides following the death of Ryan Smith, former soldier from 4 Scots, Highlanders Battalion.
An MOD spokesperson said:
"Any suicide is a tragedy and we take each case extremely seriously. We're absolutely committed to helping our soldiers, sailors, and airmen and women who are struggling with their mental health and have a range of support available. This includes our specialist Defence Community Mental Health Units, increased spending on mental health provision and the 24/7 military mental health hotline.
"While the vast majority of veterans go on to have happy, healthy and successful lives, extensive support is available for individuals struggling with their mental health. This includes specialist NHS medical support, the Veterans Gateway – a one stop shop for veterans in need of help, and extensive charity sector support."
Image of the day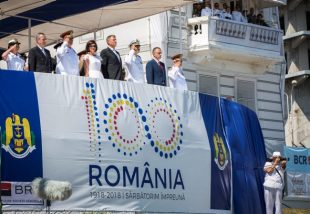 Royal Air Force personnel and aircraft deployed in Southern Romania joined other allies to take part in a major parade to celebrate the 115th Romanian Navy Day.