Today's defence news features aircraft carrier HMS Queen Elizabeth which is due to set sail for the USA this evening and the military medical system.
HMS Queen Elizabeth 
The departure of the Royal Navy aircraft carrier for the USA to land fast jets on deck for the very first time has received widespread coverage across broadcast, online and print media today. The Times, Daily Express, The Herald, The Telegraph, The Sun, The Press & Journal, The Independent, The Guardian and The Daily Mail cover the imminent departure in their Saturday editions. BBC and Sky have ran packages throughout the morning.
It has been eight years since a British aircraft carrier last flew a fast jet from her decks, HMS Queen Elizabeth will embark two F-35B test aircraft, from the Integrated Test Force (ITF), based out of Naval Air Station Patuxent River, Maryland.
Around 200 supporting staff, including pilots, engineers, maintainers and data analysts will be joined by two 'orange wired' test aircraft, belonging to the ITF, which are expected to conduct 500 take offs and landings during their 11-week period at sea.
The aim of these initial, or 'developmental' trials are to ascertain, through the specially equipped aircraft and sensors around the ship, the operating parameters of the aircraft and ship, in a range of conditions. Similar successful trials were conducted by HMS Queen Elizabeth at sea earlier this year for Rotary Wing aircraft.
Defence Secretary Gavin Williamson said:
HMS Queen Elizabeth is a true statement of our national power, and the whole country can be proud to see this magnificent symbol of our engineering prowess and international ambition leaving port to sail onto the world stage.

Her voyage to America not only shows her global reach, but strengthens our special relationship with the US Forces who we have worked hand-in-hand with on this iconic programme. As she sails along the east coast of the USA, she will signal our determination to keep fighting alongside our allies in all corners of an ever more complex and uncertain world.
Military healthcare system
The Times reported on the IT system of the Defence Medical Service.
For more detail, please see the Surgeon-General's blog.
An MOD spokesperson said:
Medical support for our personnel is a top priority. We are proud to have highly-qualified professionals who would never prescribe drugs or deploy troops without doing the appropriate checks. IT issues have been raised in 0.001% of medical consultations over the past two years, and none of these incidents have ever caused any harm.

As with all systems, problems can occur but are rare. We have a dedicated team ready to fix any issues swiftly and we instruct clinical staff not to undertake non-emergency appointments if healthcare records can't be accessed.

The Surgeon-General takes any concerns raised by the BMA very seriously and is absolutely committed to rectifying any issues with the current system, whilst ensuring IT is continually upgraded so it is of the highest standard.

The Surgeon-General and his team regularly engage with the BMA, and a meeting has been scheduled for several weeks so they can voice their concerns directly.
Image of the Day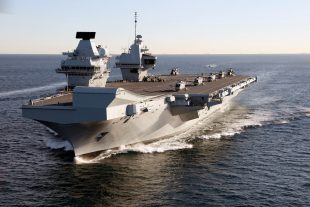 Follow us on Twitter, Linked in and Instagram and don't forget to sign up for email alerts.