Today's defence related news includes claims that WW2 shipwrecks in Indonesia and Malaysia are being plundered, the UK contribution to European defence and the UK & France's defence relationship in the Sahel.
WW2 shipwrecks
 The Mail on Sunday splash with claims WW2 shipwrecks are being plundered for scrap metal in Indonesia and Malaysian waters. The ten ships consist of HMS Prince of Wales, SS Loch Ranza, HMS Tien Kwang, HMS Banka, HMS Repulse, HMS Encounter, HMS Electra, HMS Exeter and HMS Thanet. The story also ran in The Sun and on Press Association.
Defence Secretary Gavin Williamson said:
The UK government absolutely condemns the unauthorised disturbance of any wreck containing human remains, and always has done. A military wreck should remain undisturbed and those who lost their lives on board should be allowed to rest in peace.

I am therefore very concerned to hear any allegations of incidents of Royal Navy wrecks being plundered in the Far East. We will work closely with the Indonesian and Malaysian Governments and local authorities to investigate these claims.
UK contribution to defence in Europe
 The Sunday Telegraph carry an opinion piece from Minister for Defence People & Veterans, Tobias Ellwood. He writes on the wide ranging threats to European defence and security, explaining that despite these challenges, the UK has world-leading military capabilities, a large defence budget and a wealth of soft power.
You can read the opinion piece here
UK & France relationship in the Sahel
 The Sun on Sunday reports on the support that the UK provided to France in the Sahel.
An MOD spokesperson said:
France is our closest military ally in Europe and we operate side by side around the world, be that countering terrorism in the Sahel or defeating Daesh in Iraq and Syria.

The UK's relationship with the EU is changing, but our unconditional commitment to European security remains resolute and we will continue to strengthen our already deep defence relationship with France.
Image of the day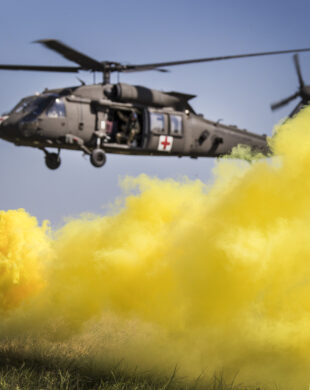 Follow us on Twitter, Linked in and Instagram and don't forget to sign up for email alerts.