The papers report on Northern Ireland legacy cases, pay awards and an Argentinian ship.
Argentinian ship
The Sun reports that an Argentinian survey vessel entered the Falkland Islands Outer Conservation Zone.
An MOD Spokesperson said:

The Argentinian Survey vessel PUERTO DESDEADO was closely monitored throughout, and at no point did it actually enter sovereign UK waters or breach international law.
Northern Ireland legacy cases
The Sun, Daily Mail and Daily Telegraph report on various aspects of the ongoing debate over historic allegations from Operation Banner. Most articles touch upon the previous day's House of Commons Defence Committee session.
A Government spokesperson said:
It is only due to the courageous efforts of our security forces that we have the relative peace and stability that Northern Ireland enjoys today. We are now consulting on new legacy institutions to improve the current system and ensure that there is no unfair and disproportionate focus on former members of the Armed Forces and police officers. The welfare of our personnel and veterans is of the utmost importance and we provide legal and pastoral support to any veteran who requires it.

The Defence Secretary has also launched a new team within the MOD to consider concerns over whether serving and former personnel are receiving the legal protection they deserve and will look at options to address any issues identified.
Pay awards
The Financial Times reports on bonus payments, suggesting service personnel face a possible wait.
An MOD spokesperson said:
It's right that our hard-working Armed Forces will receive an above inflation pay increase of 2.9% this financial year.

This will mean that the average soldier will see an extra £680 in their pay packets, plus a one-off payment of £300.

We are currently working to deliver the one off payment, which is planned to be made to service personnel by the end of the financial year.
Image of the Day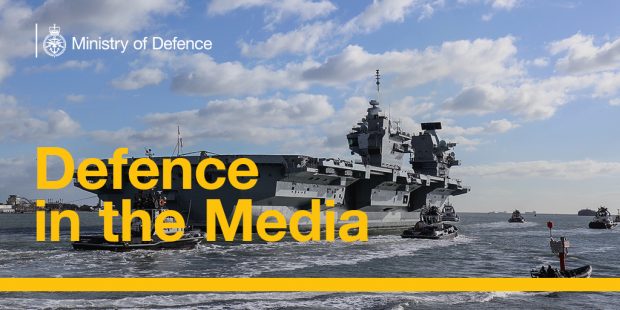 Follow us on Twitter, Linked in and Instagram and don't forget to sign up for email alerts.