Defence news today includes reporting on cutting-edge robots and drones being developed to test for chemical agents and UK Government support for veterans.
Project Minerva
Project Minerva is covered by a number of newspapers, including The Telegraph, The Times, The Sun, Daily Mail, The GuardianandBelfast Telegraph.
Coverage focuses on the testing of military drones and robots that could be used to examine chemical agents and biological threats in order to avoid risk to emergency services and personnel. Articles report that scientists from DSTL were involved in the trial at the Fire Service College in Gloucestershire, which included the testing of a drone that can relay 3D images and detect chemical agents using a laser system. The MOD press release reports on the trials in greater detail.
Defence Secretary Gavin Williamson said:
Following the reckless nerve agent attack in Salisbury this year, we have seen the bravery and professionalism of our Armed Forces, emergency services and MOD scientists. They have worked tirelessly to investigate and clean up deadly contaminated areas. This project will ensure we stay at the forefront of dealing with such heinous attacks, whether on our streets or on foreign battlefields. We are investing millions in this pioneering technology to do more to protect those who so fearlessly protect us.
Support for veterans
The Telegraphand i paper report on figures compiled by Plaid Cymru through parliamentary questions, academic research and military charities which relate to veterans and their mental health.
A Government spokesperson said:
The majority of veterans go on to lead happy, healthy and successful lives, but we are committed to supporting those who struggle. Last year, the MOD launched the Veterans' Gateway – a 24 hour helpline that acts as a single point of contact for former service personnel to access the help they deserve, from advice on health care to finances and housing.

In addition, the Government is providing more than £1.2bn to tackle all forms of homelessness through to 2020, and veterans have high priority access to social housing to ensure they are not disadvantaged by their service.
Image of the Day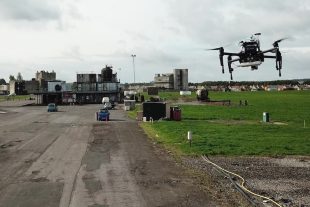 Follow us on Twitter, Linked in and Instagram and don't forget to sign up for email alerts.