Defence news today includes coverage of the £5bn deal for the UK to supply Qatar with Typhoon and Hawk aircraft and the conclusion of the Court Martial on the death of three reservists in 2013.
Qatar export deal
The Financial Times, The Telegraph and The Daily Mail reported on the £5bn deal for the UK to supply the state of Qatar with 24 Typhoon jets and 9 Hawk aircraft after BAE systems received its first payment. The deal includes the aircraft and a bespoke support and training package. It is also the largest UK order for the Eurofighter in a decade, helping to secure 5,000 jobs.
 Defence Secretary Gavin Williamson said:
This monumental, multi-billion-pound deal is now officially in place, and those from across government and industry who have worked so hard on it together can be extremely proud to see it reach this stage. It's a massive boost to the British defence industry, helping to support thousands of jobs, and it will help us further build the trust between the UK and Qatar to tackle the challenges we both share, support stability in the region and deliver security at home.
Read more here: https://www.gov.uk/government/news/qatari-jet-export-deal-swings-into-action
Brecon Beacons Court Martial
The Telegraph, The Times, The Guardian, The independent, The Daily Mail and The Star covered the death of the three reservists who died in Brecon Beacons in 2013. The case was thrown out by the judge after he decided that defence did not have a case to answer for.
An Army Spokesman said:
Our thoughts remain with the families and friends of Cpl James Dunsby, LCpl Craig Roberts and Tpr Edward Maher at this difficult time.

The safety and wellbeing of our personnel remains our top priority and following these tragic events we have made a number of changes, particularly in relation to heat stress and training, to ensure an incident like this does not happen again.
Image of the day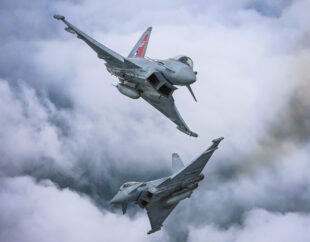 The Typhoons that will be supplied to Qatar. [Crown Copyright, MOD 2018]