Today's defence related news includes an announcement by Defence Secretary Gavin Williamson that the Red Arrows will carry out their largest ever tour of North America.
Red Arrows to light up North American skies on landmark tour
The Sunday Telegraph, BBC and Scotland on Sunday all report that the Red Arrows will hold their largest ever tour of the US and Canada next year, with the nine-week visit expected to generate billions of pounds of investment for Britain.
Defence Secretary Gavin Williamson said:
"Our Red Arrows fly the flag for Britain across the globe, both in the skies and on the ground, and this tour will not only showcase their teamwork and aviation excellence, but also promote our great nation to billions of people across the world.
"After an incredible year celebrating RAF 100, it seems only fitting that the Red Arrows prepare to illuminate the skies of our closest allies in 2019, celebrating and strengthening our incredible relationship with the US."
The visit to North America follows the Red Arrows' nine-week tour of the Asia-Pacific and Middle East region in 2016.
The 20,000-mile deployment visited 17 countries and drew a global audience of more than one billion people.
Image of the Day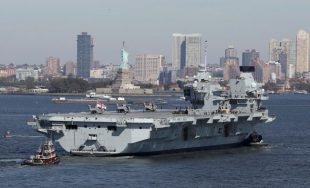 HMS Queen Elizabeth arrives in New York 
Follow us on Twitter, Linked in and Instagram and don't forget to sign up for email alerts.