Today's defence related news includes continued coverage on Exercise Autonomous Warrior.
Exercise Autonomous Warrior
Following extensive coverage across national news outlets during the week, the Sunday Express carries a piece on the major four-week exercise ran on the Salisbury Plain, saying it is 'a meeting of minds' between the Ministry of Defence and industry groups.
The page 2 story says autonomous weapons equipment will help supply food and medical provisions to troops on the front line.
The Warrior mechanised combat vehicle, which carries a 30mm cannon and 7.62 light machine gun, the Malloy Hover bike, which can carry equipment and medical supplies to front line troops, and the Titan Sentry a robotic 'wheelbarrow', which scouts the terrain ahead of the Titan Strike, are all mentioned in the piece as autonomous weapons that have been tested during the exercise.
Defence Secretary Gavin Williamson said:
Our troops now have the chance to test out a huge range of robotic kit in what will be the biggest exercise of its kind in our history.

We're always working with the brightest minds in Britain and across the world to see how they can support our military of the future, but now the frontrunners have the chance to prove what they can really do on a battlefield.

This equipment could revolutionise our Armed Forces, keeping them safe and giving them the edge in an increasingly unstable world.
Image of the day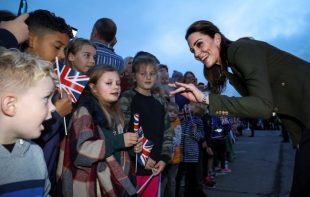 Their Royal Highnesses, the Duke and Duchess of Cambridge, visited British Forces Cyprus (BFC) base RAF Akrotiri this week to meet the men and women serving on operations over Christmas.