Today's Defence-related news includes a call for universities to do more to support ex-service personnel and the children of servicemen and women who have lost their lives during duty.
Government letter to universities
A letter calling on universities to support the Armed Forces Covenant, sent by Defence Minister Tobias Ellwood and Education Minister Chris Skidmore, is covered by a number of national print outlets today, including The Daily Telegraph, Daily Mail and The Sun.
Reporting notes that only 24 per cent of young people with parents in the armed forces go on to higher education and veterans who want to apply often face barriers as they have not obtained the correct academic qualifications. Most of the focus is on universities taking military experience into account during the admissions process but also highlights that the Government already provides £5 million worth of scholarships for armed forces higher education schemes.
Minister for Defence People and Veterans Tobias Ellwood said:
Signing the Armed Forces Covenant is a fantastic way to show support for our former and current service men and women, as well as their families. Thousands of businesses and organisations have already pledged to make a difference, and I'm pleased that so many of this country's universities have already followed in their footsteps - with the Universities of South Wales and Lincolnshire and London South Bank University receiving awards last year for their work supporting the military community.

Today, I want to make sure that all universities understand the value of supporting our armed forces and their families, and I encourage them to step up and sign our pledge.
 Image of the day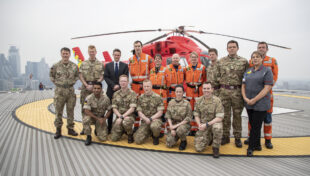 Follow us on Twitter, join us on Linked in and Follow our Instagram page and don't forget to sign up for email alerts.