Yesterday The Times reported that the UK will send a signal of weakness to President Putin if the next Government fails to spend at least 2% of GDP on Defence. The piece suggests that there is despair that the Prime Minister, Defence Secretary and the Chancellor have all avoided giving a clear answer whenever asked about Defence spending.
We have been clear that in order to counter the world's security threats it is important that we continue to invest in Defence.
As the Defence Secretary Michael Fallon has recently said:
Defence spending under this Government continues to give the UK the second largest defence budget in NATO and the largest in the European Union. We are committed to spending 2% of GDP on Defence with decisions on spending after the financial year 2015/16 to be determined in the next spending review.

We are investing over £160Bn on equipment and support over the next 10 years which will provide new strike fighters; more surveillance aircraft; hunter killer submarines; two new aircraft carriers; the A400Ms transport aircraft and the most advanced armoured vehicles – all of which will keep Britain safe.

The UK continues airstrikes and training to combat ISIL in Iraq – carrying out the second highest number of airstrikes after the United States – and has 750 military personnel deployed toSierra Leone to help fight Ebola. The UK remains a truly global military power with more than 90,000 servicemen and women deployed last year on more than 300 commitments in 50 countries.
The UK Government spends 2% of GDP on Defence and has consistently met and indeed exceeded this NATO Guideline – one of only four countries to do so. The UK also exceeds the NATO guideline to spend 20% of the defence budget on new equipment and along with the US is one of only two Allies currently to meet both NATO guidelines.
We committed, in the Wales Summit communiqué as an Ally who currently meets the 2% guideline, to aim to continue to do so. This Government is committed to spending 2% of GDP on Defence. And we expect to do so until the end of this Parliament, following which decisions on defence spending after financial year 2015-16 will be determined in the next Comprehensive Spending Review.
Image of the day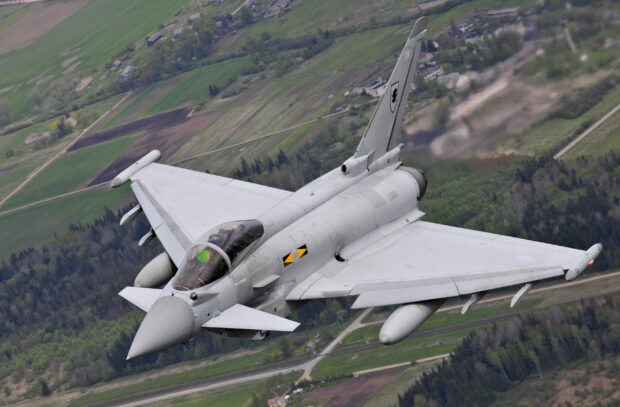 Follow us on Twitter and don't forget to sign up for email alerts.