Defence news today includes Royal Navy frigate HMS Sutherland escorting two Russian warships near the UK coastline, and news that £22.7m of LIBOR funding has been awarded to support older veterans.
Royal Navy
Royal Navy frigate HMS Sutherland is today escorting two Russian warships expected to sail through the English Channel overnight. The Type 23 frigate located the two Russian ships in the early hours of Friday morning as they sailed through the North Sea towards the Dover Straits, and will continue to monitor their movements as they pass close to UK territorial waters today.
Defence Secretary Sir Michael Fallon said:
HMS Sutherland is carefully marking these Russian ships as they pass close to UK waters. The Royal Navy maintains a vigilant watch and is always ready to keep Britain safe.
Read more here.
Veterans
There is reporting in Scottish media today following an announcement that the Aged Veterans Fund has awarded £22.7 million of LIBOR funding to 10 charities to improve support and introduce new services to help older veterans.
Defence Minister Mark Lancaster said:
Our veterans have given so much for their country, and the Aged Veterans Fund is a way of us thanking our older veterans and ensuring they are cared for in later life.
Read more on this here.
Daesh
The Times today writes that the highest ranking Daesh commander in Mosul has been killed in an airstrike. Gulmurod Khalimov was in the west of the city last week when the missile struck, the paper says, adding that it was the third time in recent months that he had been the target of an airstrike, according to an Iraqi military source. Separately, The Telegraph continues to report on the US use of the Massive Ordnance Air Blast bomb in Afghanistan. 
DG Nuclear
The Times and The Telegraph report that the Ministry of Defence has appointed civil servant Julian Kelly to keep the Trident replacement submarine programme on track, adding that he will begin in the role of Director-General Nuclear in May.
An MOD Spokesperson said:
We're pleased to welcome Julian Kelly to the Department as the new Director General Nuclear.

Delivery of the nuclear enterprise continues to be a key priority for the department, and Julian brings essential commercial and financial skills to this vitally important work.
Newly-appointed DG Nuclear Julian Kelly said:
I am excited to begin a new challenge at MOD, in an area that is one of Defence's key priorities.

I look forward to bringing my experience – particularly my work on the Submarine Delivery Agency – to the role of DG Nuclear, and to working with the rest of Defence to ensure we continue to meet our SDSR 2015 commitments.
Image of the Day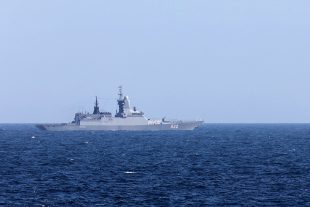 Follow us on Twitter, Linked in and Instagram and don't forget to sign up for email alerts.