Defence news today includes continued coverage of the Royal Navy frigate HMS Sutherland escorting two Russian warships near the UK coastline, an RMP investigation and reports that North Korea's most recent missile test has failed.
Royal Navy
The Sunday Times and The Sun report that HMS Sutherland has escorted two Russian warships through the English Channel. Coverage reflects that this is the third time in six months the Royal Navy has marked Russian vessels close to UK waters.
The Type 23 frigate located the two Russian ships in the early hours of Friday morning as they sailed through the North Sea towards the Dover Straits, and will continue to monitor their movements as they pass close to UK territorial waters.
Defence Secretary Sir Michael Fallon said:
HMS Sutherland is carefully marking these Russian ships as they pass close to UK waters. The Royal Navy maintains a vigilant watch and is always ready to keep Britain safe.
Read more here.
RMP Investigation
The Mail on Sunday reports that a Royal Military Police investigation into claims SAS troops covered up war crimes in Afghanistan failed to find any evidence.
An MOD spokesperson said:
We are not aware of any evidence to support this allegation.

As the Defence Secretary announced in February, the Royal Military Police expect to have discounted around 90% of allegations against our armed forces in Afghanistan by this summer.

Our armed forces served in Afghanistan with great courage and professionalism. We rightly hold our military to the highest standards. Where allegations are raised it is right they are investigated.
Image of the Day: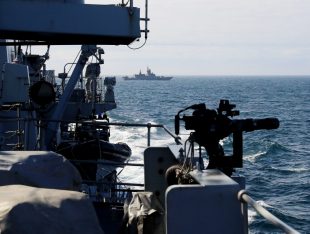 Follow us on Twitter, Linked in and Instagram and don't forget to sign up for email alerts.