Today's defence news includes Russian comments on NATO, the Royal Navy marking Russian ships in the Channel, the Ascension Island Runway, and Parachute Regiment training.

NATO and Russia
The Daily Mail reports comments made by Russian Ambassador to the UK, Alexander Yakovenko, on Britain's relationship with Russia and NATO deployments to Eastern Europe.
Defence Secretary Sir Michael Fallon said:
The UK is stepping up its support for NATO's collective defence through our deployments across the alliance.

British personnel are playing a leading role in NATO: delivering deterrence and defence in Estonia and Poland and air policing in Romania underlines our commitment to the security of Europe.
Marking Russian Ships 
The Daily Mail, The Scotsman and The Herald report that HMS Sutherland has escorted two Russian warships through the English Channel. The Type 23 frigate located the two Russian ships in the early hours of Friday morning as they sailed through the North Sea towards the Dover Straits.
Defence Secretary Sir Michael Fallon said:
HMS Sutherland is carefully marking these Russian ships as they pass close to UK waters. The Royal Navy maintains a vigilant watch and is always ready to keep Britain safe.
Commander Andrew Canale, the Commanding Officer of HMS Sutherland, said:
As one of the Royal Navy's high readiness units, HMS Sutherland is required to escort warships that approach the UK and this task is considered routine business for us.

It is vitally important the Royal Navy demonstrates its presence and commitment to the integrity of UK territorial waters as we work around the clock to secure the seas of our island nation. 
Ascension Island Runway
The Daily Telegraph reports on the Ascension Island runway.
A Ministry of Defence spokesperson said:
As part of on-going monitoring of the state of repair of the Ascension Island runway, we have made the decision to not fly the Voyager aircraft to Ascension for our routine flight from 14 Apr 2017 for safety reasons. 

We will ensure the continuation of military support to the Falkland Islands through an alternative hub, and are working with the Foreign Office to put temporary measures in place to support the people who live and work on Ascension Island and the Falkland Islands.
Parachute Regiment Training
The Daily Mirror reports on Parachute Regiment training.
An Army Spokesperson said:
The Parachute Regiment is highly trained and able to meets its operational requirements.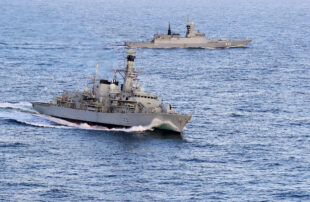 Follow us on Twitter, Linked in and Instagram and don't forget to sign up for email alerts.