Defence news of note includes coverage of the Defence Secretary announcing HMS Queen Elizabeth's commissioning and heroic military dog Mali.
Queen to commission namesake aircraft carrier in just three weeks
Her Majesty the Queen will formally commission her namesake aircraft carrier, HMS Queen Elizabeth, into the Royal Navy fleet in just three weeks' time. Defence Secretary Gavin Williamson announced the news as he made his first landing onto the deck of the carrier, while she was at sea sailing around the South Coast of England.
There is reporting of the announcement in Mail Online, ITV, Daily Express, Daily Record, and The Herald.
Defence Secretary Gavin Williamson said:
"In a world of intensifying global threats, this magnificent ship will be a leading force fighting to protect the values of the UK and our allies. It's an honour to visit her at sea, and to meet such a passionate crew. I'm sure Her Majesty will be similarly impressed at next month's historic ceremony for the nation's new flagship, which proudly bears her name."
Heroic military dog Mali awarded the Dickin medal
Military dog Mali has been awarded the PDSA Dickin Medal – renowned as the highest decoration a military animal can receive – for service to the Armed Forces in Afghanistan. Reporting is carried in The Times, The Telegraph, The Sun, Daily Mail, The Mirror and The Express.
Image of the Day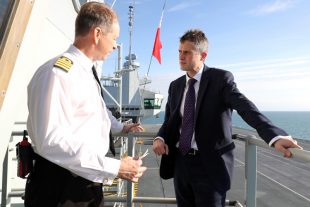 Follow us on Twitter, Linked in and Instagram and don't forget to sign up for email alerts.