Defence news today includes coverage of Defence Secretary Penny Mordaunt's speech at the First Sea Lord's Sea Power Conference 2019, held at RUSI.
Image of the Day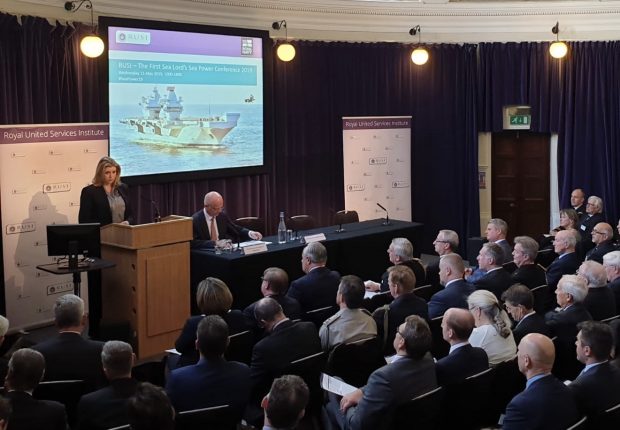 Defence Secretary speech
There is various coverage today following Defence Secretary Penny Mordaunt's speech at RUSI for the First Sea Lord's Sea Power Conference 2019.
During the speech, the Defence Secretary praised the work of the Royal Navy, and announced that the service's aircraft carrier HMS Queen Elizabeth will return to the Eastern seaboard for flight trials with the UK's state-of-the-art F35 fighter jets.
Read the full Defence Secretary RUSI speech here.
Armed Forces legal protections
There is reporting in national media today that the Defence Secretary has announced a new package of measures that will provide better support and stronger legal protections for serving and former Armed Forces personnel facing investigation over alleged historical offences.
Coverage says the MOD intends to consult proposals to introduce a statutory presumption against prosecution of current or former personnel for alleged offences committed in the course of duty abroad more than 10 years ago.
The presumption would stipulate that prosecutions in such circumstances are not to be considered to be in the public interest, except in "exceptional circumstances," for example if new compelling evidence were to emerge.
Defence Secretary Penny Mordaunt said:
We all owe a huge debt of gratitude to our Armed Forces who put their lives on the line to protect our freedom and security.

It is high time that we change the system and provide the right legal protections to make sure the decisions our service personnel take in the battlefield will not lead to repeated or unfair investigations down the line.
Major General Chris Ghika
There is media reporting today on comments by Deputy Commander of the Coalition Joint Task Force, Major General Chris Ghika, made during a briefing with the Pentagon Press Corp.
An MOD spokesperson said:
Major General Ghika speaks as a military officer in the US-led Coalition focused on the fight against Daesh in Iraq and Syria. His comments are based on the day to day military operations and his sole focus is the enduring defeat of Daesh.

He made clear in his Pentagon briefing that "there are a range of threats to American and coalition forces in this part of the world. There always have been, that is why we have a very robust range of force protection measures."

The UK has long been clear about our concerns over Iran's destabilising behaviour in the region.
Follow us on Twitter, join us on Linked in and Follow our Instagram page and don't forget to sign up for email alerts.