Defence news today includes coverage of Defence Secretary Penny Mordaunt announcing £22 million in funding for Army cyber operations centres.
Image of the Day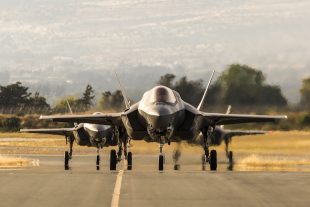 Army Cyber Centres
Defence Secretary Penny Mordaunt spoke at the NATO Cyber Defence Pledge Conference in London yesterday where she announced £22 million of funding for new Army cyber centres. The announcement runs in The Independent, The Times, The Telegraph, The Sun, Daily Mirror and Evening Standard.
Defence Secretary Penny Mordaunt said:
We know all about the dangers. Whether the attacks come from Russia, China or North Korea. Whether they come from hacktivists, criminals or extremists. Whether its malware or fake news. Cyber can bring down our national infrastructure and undermine our democracy.

It's time to pay more than lip service to cyber. We must convince our adversaries their advances simply aren't worth the cost. Cyber enemies think they can act with impunity. We must show them they can't. That we are ready to respond at a time and place of our choosing in any domain, not just the virtual world.

We need coherent cyber offense as well as defence. So today I can announce we will be investing £22m to create new cyber operations centres.
Follow us on Twitter, join us on Linked in and Follow our Instagram page and don't forget to sign up for email alerts.