Images and reports from yesterday's D-Day75 commemorations in Normandy feature in every major outlet.
Image of the Day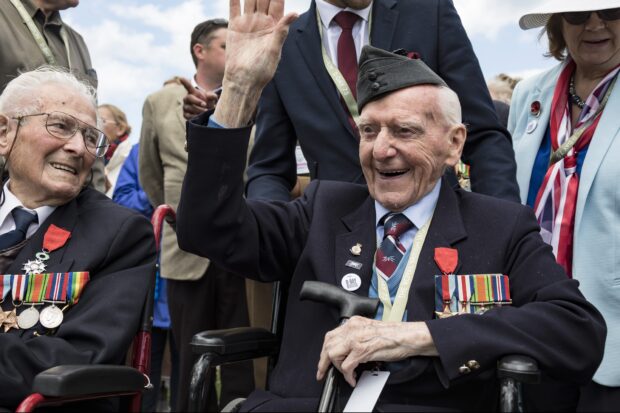 D-Day75 Commemorations
Following the gathering of world leaders for the National Commemorative Event in Portsmouth, activities marking the 75th anniversary of D-Day extended to the coasts of France. The Prime Minister and President Macron unveiled a new memorial to the fallen soldiers, and Prince of Wales, the Defence Secretary and military chiefs were joined by other dignitaries at a service at Bayeux Cathedral and in the War Cemetery, before witnessing a parade for the Normandy veterans in Arromanches.
These commemorations featured heavily across national newspapers, with images of veterans featuring on the front pages of the Telegraph, Mirror, Mail, Guardian, Metro, Express and i paper, while the Times devotes half its cover to an image of the Presidents of France and the US, and the First Ladies, watching a fly past by the French air force. The Independent  features an image of Presidents Trump and Macron together at the commemorations.
Some of the highlights of the coverage was an emotional interview with veteran Henry Billinge, who said, "I'm no hero, I was lucky. All the heroes are dead and I'll never forget them as long as I live." Many of the papers also featured an image of 6 year old George Sayer wearing his great-uncle's medals.
Follow us on Twitter, join us on Linked in, Follow our Instagram page and don't forget to sign up for email alerts.